Ursula Neubauer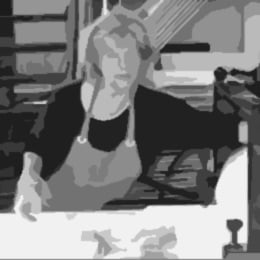 >Bekijk hieronder alle kunst van Ursula Neubauer in onze collectie.< Born in Munich, Germany (1939).
Studied German, English and American literature at German universities.
Received a Bachelor of Arts from the University of Pittsburgh in 1975 and a Master of Fine Arts in printmaking at the Carnegie Mellon University, Pittsburgh PA, USA in 1978. American citizenship.
Has been living in Amsterdam since 1983. Her work has repeatedly been awarded a prize and is represented in the print collections of the Bibliotheque Nationale de Paris, France, The Museum of Art, Philadelphia PA, USA the De Cordova and Dana Museum and Park, Lincoln MA, USA, The Museum of Contemporary Art, Barcelona, Spain, The Sakima Art Museum, Okinawa, Japan, The Hunt Library, Special Collections, Pittsburgh PA, and The City of Amsterdam, among others.
Has been printing at the Amsterdams Grafisch Atelier for the past 28 years and is a member ofGrafiekgroep Bergen and Kunstenaarscentrum Bergen.
Hieronder het werk van Ursula Neubauer dat wij in onze collectie hebben.
Showing all 2 results