Linnea Pergola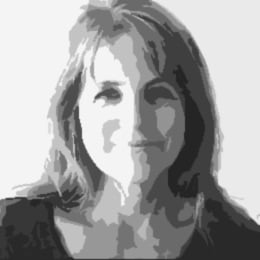 Linnea Pergola was born and grew up in Los Angeles, California. From 1987 to 2012 Linnea was an artist for Martin Lawrence Galleries, John Szoke Editions, Quality Fine Art Editions and most recently Galerie-F in Germany. All of these art publishers printed many serigraphs, giclees and posters of her artwork and distributed them worldwide as well as having art shows all over the US and Europe.
The art world has taken her in many directions but she has now returned to her love of just creating without the constraints of "commercial galleries" or "commercial publishers". Just the pure love of drawing and painting is what she enjoys the most now. Her love of travel has inspired many paintings, especially the Amazon, where she has been six times. She hopes to return to the Amazon soon as well as Thailand, where she volunteered and donated artwork to Elephant Nature Park in Chiang Mai. She just moved from France where she lived for over one year in a 700 year old house in Saint Antonin Noble Val and just moved back to Arizona.
Linnea is involved with Urban Sketchers and also is a member of the Pencil Society and Silk Painters International. She especially loves detailed work, whether it be in graphite, watercolors or silks. She often brings out the humorous side of life. Painting cityscapes is her signature
stamp and that is how she got well known with Martin Lawrence Galleries. She still does cityscape commissions.
Linnea is an artist with patrons across the United States and Europe. She has been in numerous shows and has won awards in group exhibitions.
Hieronder het werk van Linnea Pergola dat wij in onze collectie hebben.
Enig resultaat