Júlio Pomar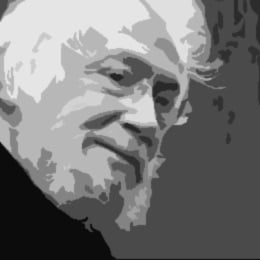 >Bekijk hieronder alle kunst van Júlio Pomar in onze collectie.< Júlio Pomar, (Lisbon, January 10, 1926 – Lisbon, May 22, 2018) was a Portuguese painter.
He studied at the the Decorative Arts School António Arroio and went through the Faculties of Fine Arts of the Universities of Porto and Lisbon, without having taken painting classes.
He executed drawing, engraving, sculpture, illustration, tapestry and tile work, dedicating himself, nowadays, especially to painting and writing. In the post World War II period, Júlio Pomar was influenced by neorealist writers like Alves Redol and Soeiro Pereira Gomes and by plastic artists like the Brazilian painter Cândido Torquato Portinari or the Mexican mural executers Diego Rivera, José Clemente Orozco and David Alfaro Siqueiros, who inspired him to use art as a means of socio-political intervention.
He settled down in Paris in 1963 and the themes he painted from then on range from the relationship with literature, to the popular tradition, passing through the happenings of his time (like May of 68), the dialogue with past masters (Coubert, Matisse,etc), intersecting with the erotism that dominated his work in the 70's.
With previous experience in sculpture, he executed several assemblages in 1967, technique to which he returned in the 70's, altering again his painting, where primary colours and ink applied as a block, without gradations or transparencies, were predominant. The Studio-Museum Júlio Pomar was opened in 2013.
Hieronder het werk van Júlio Pomar dat wij in onze collectie hebben.
Enige resultaat