Tara McPherson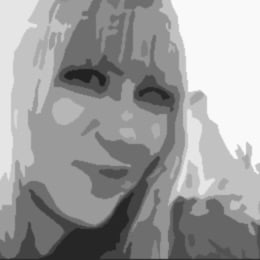 Tara McPherson (born April 7, 1976 in San Francisco, California) is an American artist based in New York City.
Creating art about people and their odd ways, her characters seem to exude an idealized innocence with a glimpse of hard earned wisdom in their eyes. She explores through portraiture the realms of our psychological states via myths, legends, astronomy, physics, nature, love, loss, childhood and good old life experience. Giving us a peek into the complexities of the human psyche through her otherwordly characters.
Tara exhibits her paintings and serigraphs in fine art galleries all over the world. Named the crown princess of poster art by ELLE Magazine, she has created numerous gig posters for rock bands such as Beck, Modest Mouse, and Mastodon. Her array of art also includes a variety of toys with Kidrobot, painted covers for DC Vertigo Comics, advertising illustrations for companies such as Wyden+Kennedy, Publicis, and Bernstein Andrulli. She also taught in the Illustration department at Parsons for 4 years.
McPherson's art has been included in books such as Bunny In The Moon: The Art of Tara McPherson Vol III, Lost Constellations; The Art of Tara McPherson Vol II, Lonely Heart: The Art of Tara McPherson, Fables: 1001 Nights of Snowfall, The Art of Modern Rock, Illustration Now!, and many more. She has lectured at TedxBrooklyn, Semi-Permanent, Offset, Institute of Contemporary Art London, OFFF, School of Visual Arts, University of Philippines, AIGA NYC, AIGA Austin, Columbus College of Art and Design, Parsons, The University of Arizona, MADE in Edmonton, and Foyles London. Her art has been featured in the Oscar Award winning film Juno, on the cover of the Eisner Award winning anthology Popgun 3, and is in the permanent collection of The Rock and Roll Hall of Fame. In October 2012 she won Toy of the Year at the Designer Toy Awards for her 'Lilitu' figure produced by KidRobot.
Tara was born in San Francisco in 1976 and raised in Los Angeles. She received her BFA with honors from Art Center College of Design in Pasadena, CA in 2001 with an Illustration major and a Fine Art minor. She interned at Rough Draft Studios working on Matt Groening's "Futurama" during college.
Hieronder het werk van Tara McPherson dat wij in onze collectie hebben.
Enige resultaat