César López Osornio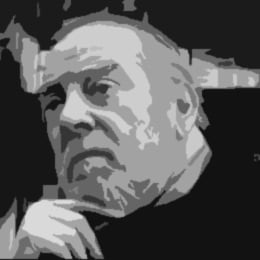 >Bekijk hieronder alle kunst van César López Osornio in onze collectie.< He was born in La Plata, province of Buenos Aires in 1930.
He graduated from the School of Fine Arts of the National University of La Plata as a professor of mosaic and mural painting; however, he developed the most important part of his career in painting. He taught in different fine art institutions. He was a full professor at the chair of Visual Design at the School of Fine arts of the National University of La Plata.
In 1960 he travelled to Japan, where he stayed for 3 years with a scholarship granted by the Comisión de Investigaciones Científicas de la Provincia de Buenos Aires (Commission for Scientific Research of the Province of Buenos Aires. He studied Asian art at the Fine Art Department of Osaka University and Landscape Architecture at the Kyodai University. Years later he settled in Venezuela.
In 1980 he moved to Barcelona, where he lived for 18 years until he came back to his hometown. Currently he is the director of the Museum of Latin-American Contemporary Art, La Plata (MACLA, in Spanish).
As a muralist, he has left evidence of his work in buildings and institutions in Buenos Aires, Mal del Plata, Azul and different cities abroad.
His work can be described as free geometry art since it is not confined to a rigid line. Thus his work, in a way, is related to the Groupe de Recherche d' Art Visuel, which was formed in Paris with important Argentine artists with whom César Lopez Osornio was always in touch. These artists looked for the depth of the expression, the permanence of the image so that the viewer did not stop to pay attention to the illusion but to emotion. In his work we can find transparency, severity and concentration because the line is drawn with a brush and a subtle chromatic gradation until it reverberates.
He has held many individual and collective exhibitions in Argentina and abroad. He exhibited in Tokyo, Kyoto, Osaka and Kobe and also in several National and Provincial Exhibition Halls in Argentina. He made mural painting in Buenos Aires, La Plata, Azul and abroad.
He has received numerous awards and distinctions such as the Third Prize at the IV Salón Estímulo (1958), Second Prize at the V Salón Estímulo (1959) Third Prize (Painting) at the XV Salón Estímulo (1966), First Prize "Martini" (1966) and the First "Salón de Mayo" La Plata (1969). He was invited to the Trabuco Awards in 2006 and 2008.
Hieronder het werk van César López Osornio dat wij in onze collectie hebben.
Showing all 5 results