Thom de Jong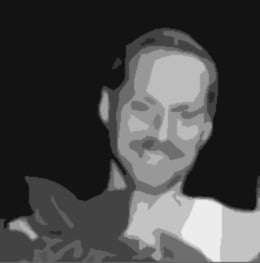 Thom de Jong was born at 18 December 1940 in Amsterdam and died at the age of 48 in 1988 in Amsterdam.
Thom de Jong worked and lived in Amsterdam and New York. He made paintings and graphical work. His graphical work were mainly relief prints (and just a few litho and silkscreen prints).
The relief-prints were made by making first a drawing on a Perspex plate and then sawing this drawing, so a puzzle of little pieces was created.
Every single peace was inked with rollers in its own colour and then the whole puzzle, with it wed coloured surface (!), was put together and covered with a sheet of paper. The whole package went through the etching press. One can feel the relief in the print. That's why this technique got its name relief print. (One can't feel this relief in a litho or silkscreen print)
It's an unique and labour-intensive way of working, but it's shows Thom de Jong his unique and personal style.
In this way an extensive oeuvre was created, that was sold on many exhibitions and galleries in New York, Los Angeles, Boston, Amsterdam, Haarlem, Paris en Copenhagen.
His work is found in many museums and private collections and represents the seventies and eighties in a cheerful and relative way.
Hieronder het werk van Thom de Jong dat wij in onze collectie hebben.
Showing the single result